ashtanga yoga

Ashtanga Yoga is an ancient yogic system which was first introduced to the western world by Sri K. Pattabhi Jois (see pic), founder of the Ashtanga Yoga Research Institute in Mysore, India, who devoted his whole life to practising and teaching the method. It was taught to him by his guru Krishnamacharya and is the original method found in Patanjali's Yoga Sutras.

This yogic system is based on a specific sequence of postures (asanas) which are practised alongside a specialised breathing technique (ujjayi). Together with the use of body locks (bandhas), flow (vinyasa) and gaze points (drishtis), they form one of the most dynamic styles of yoga being practised today.

---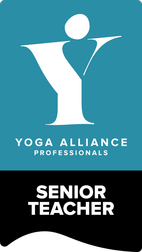 karen howells
I've been practising yoga since 1999 and under the guidance of various teachers including Sri K. Pattabhi Jois, Sharath Jois, Brian Cooper, Nawa Joyti, David Swenson, Alex Souper, Alex Medin, Hamish Hendry, Ana Forrest and Cherie Lathey. Yoga for me started as a way of balancing up a very hectic and high pressured career in the music industry, as well as complimenting my part time studies to become a Shiatsu practitioner. Having completed a three year diploma course in Shiatsu & Oriental Medicine my focus shifted towards deepening my yoga practice as it naturally became a bigger part of my life.
In 2002 Brian Cooper started his first ever Ashtanga based teacher training course and I decided to enrol with no real intention to teach, but simply to deepen my knowledge and understanding of the practice. After a one year course with him based in Leeds I continued to develop my own personal practice with several teachers including Guruji & Sharath, but then went on to train with Brian again in 2006 at the beautiful Scottish retreat of Shanti Griha. Having completed this further training I became one of the first graduates and members of the Yoga Alliance Professionals which is now one of the leading organisations promoting high standards of teaching and training in the yoga industry.
Having taught for many years alongside my original career I eventually left the music industry after the birth of my two children and finally took the leap of faith to set up
yoga flower
as a full time business in 2011. Having it's humble beginnings with a few classes in school gyms and church halls it went on to flourish into me running a busy timetable of classes at a local studio which I did for almost 6 years. Since then however, I have decided to refocus my teaching and I now run an extensive timetable of private classes throughout the week. I still continue to teach an early morning Hot Ashtanga class at BIKRAM YOGA ESSEX in Loughton and also regularly teach workshops and courses at AIR YOGA in South Woodford.
Aside from everything I've learned from my own practice, I have learned even more as a teacher and never fail to be amazed at the transformation yoga can truly bring to people. I continue to feel so blessed to do a job I love so much and very privileged to play a
part ​in so many other amazing yoga journeys.
Namaste
Karen Howells
Founder of yoga flowerKaren Howells is a registered Senior Yoga Teacher with Yoga Alliance Professionals
This accreditation demonstrates excellent standards as set by Yoga Alliance Professionals
www.yogaallianceprofessionalys.org
---